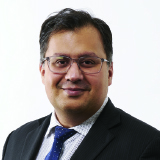 Dr Shahzaib Anwar
GASTROENTEROLOGIST & ADVANCED ENDOSCOPIST
FRACP
Dr Shahzaib Anwar is an accredited Gastroenterologist, Hepatologist and Interventional Endoscopist. Shahzaib completed his basic physician training and Gastroenterology training at Flinders Medical Centre in Adelaide, South Australia. He then completed two years of Advance Endoscopy Fellowship at Alfred Hospital Melbourne and Western Health Melbourne.
Shahzaib has a special interest in colon cancer screening, Pancreato-biliary disorders, Advance Therapeutic Endoscopy including Therapeutic ERCP, Endoscopic Ultrasound and Endoscopic resection of large polyps.
Conditions managed by him include Colon Cancer Screening, GORD, Coeliac disease, Barrett's Oesophagus, Irritable bowel syndrome, Endoscopic removal of large polyps, liver and Pancreato-biliary disorders. He is actively involved in the training of Gastroenterology registrars, medical students and has published widely in International Journals.
His investigative and surgical procedures include:
Gastroscopy and Colonoscopy (Diagnostic and Therapeutic)
Endoscopic Mucosal resection
Endoscopic Ultrasound (EUS)
Endoscopic Retrograde Cholangiopancreatography (ERCP)
Endoluminal stenting
Enteroscopy
Dr Anwar consults at a variety of locations with Precision Integrated Medical Specialists, including our Cranbourne, Gippsland, Doncaster East, Kew and North Melbourne locations.


PROFESSIONAL QUALIFICATIONS
Bachelor of Medicine & Bachelor of Surgery (MBBS)
Fellowship of the Royal Australasian College of Physicians (FRACP)


PROFESSIONAL MEMBERSHIPS
GESA (Gastroenterological Society of Australia)
AGEA (Australian Gastrointestinal Endoscopy Association)


LANGUAGES SPOKEN
English
Punjabi
Hindi
Urdu